Reviews
Viraltrend Review – Get Paid Using Your Social Media Account (Make 50k Monthly)
Viraltrend review is a full insight into viraltrend, which will give you detailed information about the so-called platform and how it works. This is going to be a very thorough review of viraltrend. This is because, in it, I won't just tell you if it's legit or not, but also how you can use it to make cool money.
Even though this website I just mentioned above has been in existence for more than 12 months, many individuals still doubt its authenticity. This led me to write this detailed review about it.
What Is Viraltrend?
It is an online advertising platform where advertisers, especially social media handlers who wish to grow their social accounts, can place their ads to reach a variety of audiences.
Adverts will be placed on this website at a specific rate, and money paid to the website administrators by the advertisers will be shared among platform members.
Sponsored Links
Members of this site can perform tasks such as Instagram like, Instagram follow, Instagram view, Facebook link, YouTube subscription, Twitter retweet and many more.
By registering with this website, you can either become an advertiser or a publisher, represented by promote and earn. But for the purpose of this article, I am trying to concentrate on the publisher side of the website. This is the only way to perform some tasks on this website and earn some cool cash.
Why Should I Join Viraltrend?
The main reason you're here is to determine whether this website is worth your time or not.
Anyways, I have prepared the detailed information about this website for you and I am about to unleash everything in this guide. But before I continue, let me brief you on the facts that make viraltrend the best for you.
1. You don't need to worry about referrals before you can withdraw in this platform.
2. A substantial number of tasks will be available to you on a daily basis.
3. Registration fee is very low with a lot of features.
4. You have been using your social media accounts before, but now, you will be getting paid to continue using them.
You can click here to register on the platform, activate your account and start making money performing simple tasks.
But wait! Leave registration alone for now, and let me reveal all you need to know about this platform first. Continue reading to get full knowledge about this platform, how it works, how to perform tasks and if it's worth your time, let's get started!
How Does Viraltrend Work?
I know that this will be the main question on your mind right now, but don't worry, this Viraltrend review will give you the detailed information about this.
Viraltrend Works on two main basis, which are;
1. Performing tasks which is the main reason why you will get paid for using your social media accounts.
2. An affiliate program is a way to promote a program with your own unique ID or link.
Now let dive into each of the categories that are being mentioned above and see how they actually work.
Get paid to perform tasks
This is an option that gives you the opportunity to monetize your social media accounts for money. It is the origin of getting paid to use your social media accounts.
Viraltrend, as I mentioned above, is a company that accepts advertisements from advertisers and shares the money collected from those advertisers among members in exchange for completing simple tasks.
Here is what I am talking about. As soon as you register and activate your account on Viraltrend, you will need to link your social media accounts with your viraltrend account.
Now, let's say an advertiser needs more likes, followers or views on any of his Instagram or YouTube content. Viraltrend already have thousands of members that are willing to perform these tasks an earn a token.
In this case, viraltrend will negotiate with the advertiser. This will enable us to reach a certain agreement on the amount of money the individual or brand will pay per comment, subscription, like or view.
90% of the money paid by the advertiser will be paid to each member whenever he/she completes a specific task. 10% of the profits was given to viraltrend itself to keep the website up and running.
Let's do some calculations here. We can represent an advertiser with A viral trend as B and a member as C.
Now, A needs more comments on his Instagram post and comes to B to advertise and get the required comments. However, after taking some factors into consideration, A is willing to pay N50 per comment.
Viraltrend will send the procedure to perform this tasks to C and once C completes the task, C will earn N45 and while the remaining N5 is paid to B.
NOTE: The above start is just for illustration, and to let you understand how it actually works.
Affiliate program
This is the process where the existing member on the platform invite a new member via his/her referral link. In addition to earning from your direct referral, you will also earn from your indirect referral.
There are two main plan in the viraltrend platform which are;
Basic subscription
This is the lowest price plan on Viraltrend, it costs N500 and you will have the same responsibilities as someone on a higher plan. The only difference here is the amount earn per referral.
As a basic member that subscribe with N500, you will be earning 30% of your direct referral registration fee and 5% of your indirect referral registration fee.
Premium subscription
This is the highest level plan on Viraltrend, it costs N1,500 and you will have the same tasks as the person on the basic plan. The only difference here is the amount earn per referral.
As a premium member that subscribe with N1,500, you will be earning 50% of your direct referral registration fee and 10% of your indirect referral registration fee.
Difference between basic and premium plan
As I have explained above the only difference between the two plan is just the amount of money that you will earn by referring others, the Same tasks will be available for both members on the two plans.
If you know that you can refer, then sign up for the premium membership and if you are the type that didn't like referring, you can just sign up for the basic plan which cost only N500.
Any plan that suits your budget is the most suitable option for you. Now that you understand how viraltrend works, the next thing you need to do is register.
Is Viraltrend Paying?
Yes, viraltrend is paying with or without referral and you can withdraw your earned money at anytime of your choice, below is a payment proof of viraltrend, the payment proof provided in this viraltrend review clearly show when the money was requested for on the viraltrend platform and when it was paid to the targeted bank account.
How To Make Money On The Viral Trend
In this section of my viraltrend review, I am sharing with you the detailed steps on how to get yourself registered in Viraltrend. This will enable you to start making money in no time.
Below are all you need to have before you can register on Viraltrend
1. One time payment of N500 or N1,500 to activate your account.
2. Social Media Account; Facebook, Twitter, Instagram and YouTube. Please note that it isn't necessary to have all of them. You can just link the one you have and leave the others. The reason Instagram is so useful is that so many tasks can be accomplished there.
There is only one implication, which is that if you link only one social media account, you will only see tasks from that social media account. If you link two or more, you will see tasks from all of them. I hope you grab.
Following the registration requirements, let's discuss the steps involved in registering.
Follow the instructions below to register and start making money on Viraltrend
Viraltrend Register – How To Sign up On Viraltrend
Follow the steps below to register on the website. Note that you can register now and activate your account later, now let's get started.
1. Click 
here 
to navigate to the Viraltrend registration page.
2. Once you click the link in step 1 above, you will be redirected to the website registration page.
3. Enter the required details and click on the get started button.
4. Enter your username and your desired password.
5. Select promote and earn during the registration.
6. Now click on the register button and a verification email will be sent to your provided email address.
7. Login to your email and click on the verification link from viraltrend, if you didn't see it, check spam folder, it might be their by mistake.
8. You will be redirected to viraltrend login page, enter your email address and password and click on continue.
9. On the next page, select your preferred plan, be it basic or premium and proceed.
If they didn't bring the subscription menu automatically, just locate dashboard and click on it it will appear.
10. Now select pay with Rave on the next screen.
11. You will be redirected to the payment page, enter your card details to complete your payment.
12. Upon confirmation of payment, you will receive a receipt, and boom, your account has already been activated.
You can also click here to begin registration.
13. Now, link your social media accounts.
Recent payment Proof
We do apply for withdrawals to keep the platform in check, so as to make sure the platform is still paying as stated in the guide.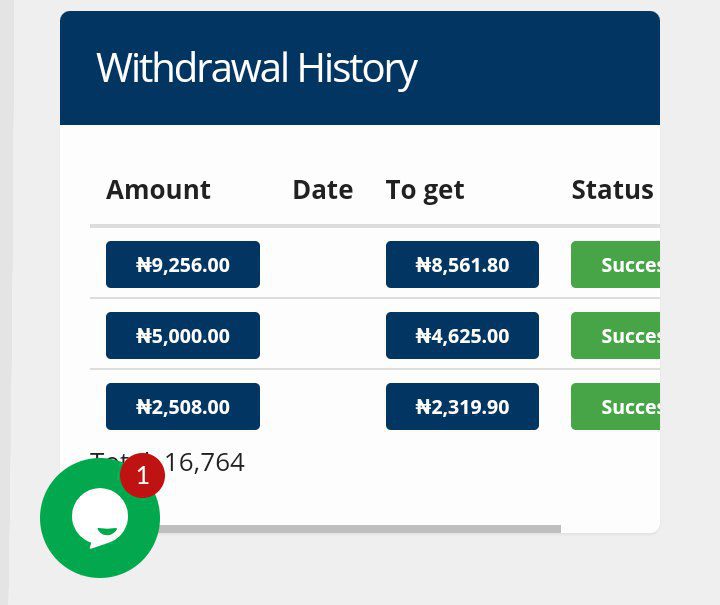 Viraltrend Login
Once you have complete the registration, click here to go to the viraltrend homepage and select login, enter your email address and the password you choose during the registration. you will be redirected to another page that is similar to the registration page, locate dashboard and click on it to access your member dashboard.
How To Link Social Media Accounts To Viraltrend Account
Upon the successful registration, the next step is to link your social media accounts with your viraltrend account, just follow the simple steps below and get it done in no time.
1. Click on the menu bar at the top right corner of your dashboard.
2. Locate profile and click on it.
3. Now scroll down a little and you will see the list of social media accounts that you can link, follow the instructions in each to link them and boom! Multiple tasks will be uploaded to your account automatically upon the successful linking of your social media account.
Now that you have link your social media accounts, the next thing is to start performing tasks and earn. This tasks will be available on your dashboard and below are the detailed instructions on how to perform those tasks.
Viraltrend Minimum Withdrawal
Minimum Withdrawal on viraltrend is 5000 naira and all registered members are required to have the sum of N5000 on their balance before being able to withdraw and this is considered moderate as it's very easy to reach if you take the platform serious. However, there is no maximum withdrawal, you can withdraw any amount higher than N5000.
How To Withdraw From Viraltrend
Once you have the minimum of 5000 Naira on your account balance, all you have to do in order to withdraw your earnings directly to your bank account it to click on the menu bar at the top right corner of the app, select wallet and scroll down to locate withdrawal request. enter the amount you want to withdraw and must be greater than N5000. Click on withdraw and wait for the money to be transferred to you bank account within 24hrs.
How To Perform Tasks On Viraltrend
There are four different types of tasks on Viraltrend.
1. Instagram tasks.
2. Facebook tasks.
3. Twitter tasks.
4. YouTube tasks.
Among the four tasks listed above only Instagram have different steps in performing the tasks.
You will follow the same procedure to perform 2. Facebook tasks, Twitter tasks and YouTube tasks
What I love about viraltrend.
They are paying as smooth as possible.
The fact that you didn't need to refer before cashing out is among the factors that makes them the best.
1. You didn't need referral to withdraw.
2. Registration is very flexible and you have the choice to choose the plan that you can afford.
3. No delay in payment.
4. You can withdraw at any time you have the minimum withdrawal and there is no specific date or time for withdrawal.
5. Minimum withdrawal is as low as N5,000.
Now that you have see all you need to know about the viraltrend platform, scroll up to the registration section and begin your registration now.
If you have any question/support during or after the registration, drop your queries in the comments box below and get a quick response.
Don't forget to join our Telegram channel to get latest updates from browsingtechzone.
Let us know what you think about this tutorial by dropping your thoughts in the comment box below.
Please, don't forget to share this post with your friends by hitting any of the social share button below.